AVN winner Bonnie Rotten bound
in a straightjacket and
roughly fucked hard, epic
deepthroat! | Bonnie Rotten | Matt Williams | Owen Gray


Jan 2, 2015




Tattooed slut straightjacketed and fucked with squirting orgasms and brutal deepthroat

The one, the only, Bonnie fucking Rotten. This slut can perform, and she does it well enough that she keeps stockpiling up AVN awards. Today we turn this tattooed tramp into our own personal fuckpuppet with the help of our handy leather straightjacket. Straightjacket available from The Stockroom if you wish to bind up your own fuckpuppet.

The straightjacket exposes her tattooed tits and leaves her arms tightly bound. Both ends of our slut are wide open and ready for use. And use them we do. It is a brutal rough ragdoll fucking all over our well used bed. Hard cock trains out both of her tender holes. We fuck her and flip her around in every angle and position that we so desire.

Adding in a vibrator releases a gushing squirting orgasm out of that experienced cunt. Bonnie is drenched in her own drool and squirt as the hard cock continues to plow her holes. She has come so hard there is a huge puddle of squirt running down the side of the bed. There is no doubt this is an award winning slut.

We leave our dazed starlet lolling on our wet and rumpled fuck bed. The straightjacket keeps her tightly in place until we want another round. She is so cumdrunk of the dick she can't even sit up. THIS is how you sexually break a starlet...
Tattooed AVN winner Bonnie
Rotten tied up with brutal
gagging messy deepthroat on
huge cock! | Bonnie Rotten | Matt Williams | Owen Gray


Dec 10, 2014




Tied up starlet does epic deepthoat on two hard cocks

The one, the only Bonnie Rotten. This talented tattooed slut keeps getting AVN awards chucked at her, and with good reason. If there were was a starlet willing to absolutely destroy herself on the dick, it is Bonnie. This is a sexual athlete at the top of her game. It is doubtful that she can be sexually broken, but we sure will have fun trying.

Bound in a strict hogtie with her hair tied up to an overhead point, our starlet is truly stuck. Stuck is a very good look on her. Her mouth hole is open for use on one side, and that flawless ass is exposed on the other side. We simply walk right to Bonnie and sheath ourselves balls deep in that award winning throat. She goes for it, committing to her destruction with every fiber of her being. The drool pours out as the dick goes in.

Her makeup is wrecked, her hair matted and her eyes are glassy, but Bonnie keeps going. Just to make it a little more challenging, we throw in a vibrator. Multitasking is hard, and most sluts can't suck dick and cum at the same time. Bonnie is not most girls and she cums fiercely with a dick down her throat.

By the time we have had our fill, Bonnie looks like she has been hit by the cock truck. But judging by the satisfied grin dancing across her face, being hit by the cock truck is one of her favorite activities. She loves this sort of treatment. Always a pleasure Bonnie, we will definitely have you back soon!
AVN winner Bonnie Rotten
shackled in strict device
bondage, fucked to a drooling
destroyed mess! | Bonnie Rotten | Matt Williams | Owen Gray


Nov 14, 2014




Busty tattooed Bonnie Rotten bound and used without mercy from both ends

Tan and tattooed Bonnie Rotten won performer of the year, and rightfully so. She knocks every scene out out the park with her eagerness and sheer enthusiasm. This is a slut that knows her way around a cock. She was put on the planet to wrangle the dick and she does it very well indeed. Today we have not one but two dicks for our AVN winner to wrangle.

Bound down on her back in a classic fuck me position, strict metal pipes keep her legs firmly trapped in place. Both ends are deliciously, completely exposed and wide open for use. And use them we do. It is time to show Bonnie exactly what Sexuallybroken means. Anyone can keep on top of the dick when they can pace it. But even a top notch performer like Bonnie will eventually be worn down when you throw tight restraint, hard cock, multiple orgasms and brutal deepthroat at them.

It is a relentless pace straight out of the gate that never lets up, never slows down and is rigorously punishing. At all times, Bonnie has a hard cock buried balls deep in her holes. We switch back and forth, taking whatever end we so desire. Our starlet starts to crumble. Deepthroating the big dick quickly covers Bonnie's face with drool and destroys her pretty porn star makeup. All the while massive squirting orgasms are being ripped out of the pussy.

Bonnie wears destroyed well. She craves the sort of rough handling that turns her brains to mush and she has come to the right place for that. Once we have reshaped Bonnie's holes to be custom fitted, we pull one last gushing orgasm out of her well used pussy before walking away, leaving her languishing in her own cum and drool.
Bonnie Rotten, is Orgasmed to
near unconscious. Made to
squirt, drool, gag, & cum.
Orgasm overload! | Bonnie Rotten | Matt Williams
Jul 15, 2013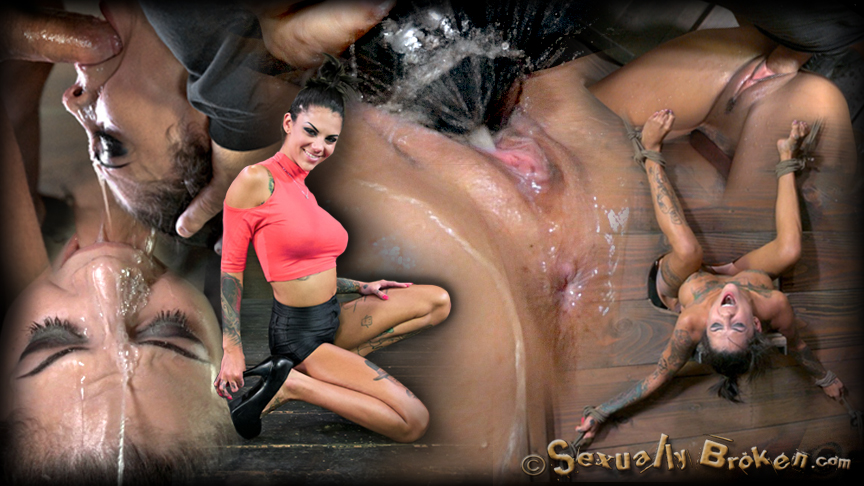 Bonnie Rotten is firmly bound in the wall. Her ass and pussy hang out on one side, her tits and throat on the other. Today Bonnie finds out what really being helpless means.

Bonnie is tall, thin, lean. flexible and strong, her naturally tan tone body is ripped from dancing and working out daily. Her legs are spread and bound, her pussy and ass totally open and exposed. Her head is falling off the edge of a the platform at perfect face fucking height. Bonnie is about to get sexually destroyed and has no idea how hard she is going to squirt, cum and scream in the next 15 minutes.

We have the world most powerful vibrator locked on to her pussy. We turn the sybian on low to tease and move the hard cock into Bonnie's hot wet mouth. We start slow and easy, letting Bonnie's throat stretch as the cock fucks it deeper and deeper. The sybian get turned to full power and Bonnie is immediately blasted into sub space. The cock is giving her a skull fucking of epic proportions as orgasms get repeatedly ripped out of her pussy by the vibrator. Over and over Bonnie cums until we can't stand the screaming anymore. We remove the sybian and replace it with cock. We fuck Bonnie hard and deep and we then move around and fuck her face. Over and over, back and forth, Bonnie can't even remember what not cumming means anymore. We make Bonnie cum and squirt too many times to even count. In the end Bonnie is a blathering cum drunk slut, coated in her own bodily liquids, completely void of ration thought...
Porns hottest sensation Bonnie
Rotten, like you have never
seen her before, Bound &
Throated | Bonnie Rotten | Matt Williams
Jun 24, 2013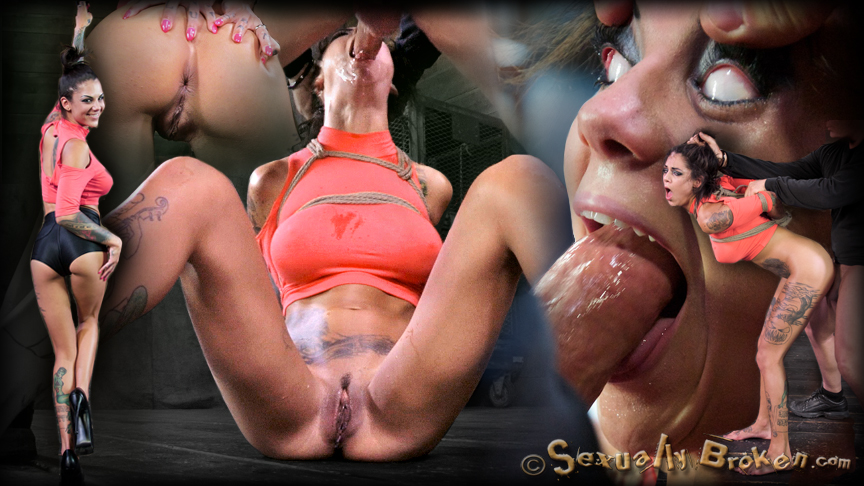 We are stoked to present Bonnie Rotten on the pages of Sexually Broken. This girl has broken the rules of the Porn industry. In the past the industry would call Bonnie "Alt" because of her body art. However Bonnie refused to be categorized and is now taking the Vanilla porn world by surprise! Her body, her beauty, and her ability to deliver amazing performances has catapulted her to the top of of the charts.

We know Bonnie is tough but we are still going to figure that out for ourselves with a little "Meet and Great". This is a shoot were we do all the bondage on screen and the action flows from one thing into another. You get to see how we tie her and feel the action as if you are there as we manhandle her all around the room.

We start by making her put on her own gag, then we bind her elbows and wrists in a very tight and uncomfortable position. We make her take of her shorts, then grab her neck, throw her against a wall and make her cum in seconds with a vibrator, she is really that helpless and turned on.

What happens next is a flurry of cock. We fuck her throat deep and hard, then her bend her over and fuck her pussy til she cums, then back to face fucking, until she is covered in her own spit and drool, then back to her pussy. A brutal assult on her holes, she never has a chance to keep up, it's an overload of cock that sends her into subspace so quickly.

In the end she is left in a puddle of her own spit and cum, severely hogtied, as we rip more orgasms out of her helpless body. Bonnie is left to struggle, unable to get free of the bondage...